You must sign in to add / modify vehicles in the EM garage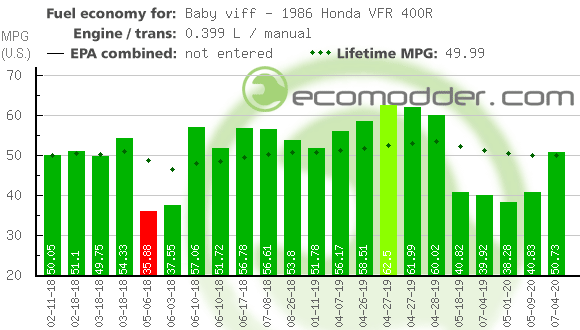 Efficiency log for: Baby viff - 1987 Honda VFR 400R
Lifetime Fuel Economy: 49.1 mpg (US), 4.8 L/100 km, 59 mpg (Imp)
90-day Fuel Economy: 49.1 mpg (US), 4.8 L/100 km, 59 mpg (Imp)
3-tank Fuel Economy: 49.1 mpg (US), 4.8 L/100 km, 59 mpg (Imp)
EPA Combined Rating / % over rating: 0 mpg (US) / 0% (based on 90-day fuel economy)
Total fills: 2
Average cost per gal/L: $2.30 per gal (US); $0.00 per L (price data entered for 2 fill/s)
Average cost per fill: $5.68
Average distance cost: $0.05 per mi. / $0.03 per km
Total fuel used: 4.94 gal (US), 18.7 L
Total distance traveled: 242.7 mi. / 390.6 km
Total cost: $11.36
Average tank distance: 121.4 mi. / 195.3 km
Fill date
Distance
Fill amount
Price
Fuel Economy
Details
2018-02-18
141.55 mi
227.8 km
2.856 gal (US)
2.38 gal (Imp)
10.81 L
96.25 kWh
$2.279
($6.51 total for this fill)
49.56 mpg (US)
59.47 mpg (Imp)
4.75 L/100 km
2.02 gal (US)/100 mi
679.97 Wh/mi
99% sure the thermostat is stuck open. Completely blocked off the oil cooler. Did not switch to reserve. Wearing gopro for 1/2 of tank.
2018-02-11
101.16 mi
162.8 km
2.084 gal (US)
1.74 gal (Imp)
7.89 L
70.23 kWh
$2.329
($4.85 total for this fill)
48.54 mpg (US)
58.14 mpg (Imp)
4.85 L/100 km
2.06 gal (US)/100 mi
694.25 Wh/mi
Stock gearing (15/45) for about 1/3 of this tank, 15/40 all else. Rear side fairing pieces missing for the entire tank. Coolant temp never really seemed to climb above 1/3, so I might either have a faulty thermostat, or I just need to block off some of the radiator. Some tucking, decent amount of P&G, but also a decent amount of full throttle runs. Was also wearing a gopro on top of my helmet for about 1/2 this tank.
View: spreadsheet friendly fuel log output (for copy/paste)