You must sign in to add / modify vehicles in the EM garage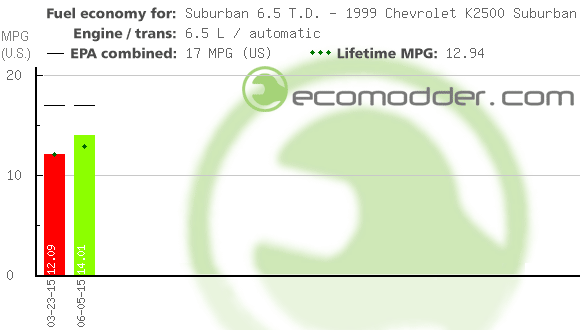 Efficiency log for: The Burb - 1999 Chevrolet K2500 Suburban LS
Lifetime Fuel Economy: 12.9 mpg (US), 18.2 L/100 km, 15.5 mpg (Imp)
90-day Fuel Economy: 12.9 mpg (US), 18.2 L/100 km, 15.5 mpg (Imp)
3-tank Fuel Economy: 12.9 mpg (US), 18.2 L/100 km, 15.5 mpg (Imp)
EPA Combined Rating / % over rating: 20 mpg (US) / -35.3% (based on 90-day fuel economy)
Total fills: 2
Average cost per gal/L: $2.97 per gal (US); $0.00 per L (price data entered for 2 fill/s)
Average cost per fill: $100.78
Average distance cost: $0.23 per mi. / $0.14 per km
Total fuel used: 67.82 gal (US), 256.7 L
Total distance traveled: 877.7 mi. / 1412.4 km
Total cost: $201.55
Total fuel saved vs. EPA: -23.9 gal. (US) / -90.5 L
Total saved: $-70.98 (based on avg. cost per gal./L)
Average tank distance: 438.8 mi. / 706.2 km
Fill date
Distance
Fill amount
Price
Fuel Economy
Details
2015-06-05
419.4 mi
674.96 km
29.93 gal (US)
24.92 gal (Imp)
113.3 L
1008.64 kWh
$3.159
($94.55 total for this fill)
14.01 mpg (US)
16.83 mpg (Imp)
16.79 L/100 km
7.14 gal (US)/100 mi
2404.96 Wh/mi
Transmission rebuilt about halfway through this tank with new ATF. (Old fluid was black.) Also found a fuel tank leak.
2015-03-23
458.25 mi
737.48 km
37.89 gal (US)
31.55 gal (Imp)
143.43 L
1276.89 kWh
$2.824
($107 total for this fill)
12.09 mpg (US)
14.52 mpg (Imp)
19.45 L/100 km
8.27 gal (US)/100 mi
2786.45 Wh/mi
First actual MPG figure. Lots of idling on this tank and cold weather, and a leaky fuel injector early on in the tank.

Pumped at Brookville, PA Getgo Pump 10 with $13 off the tank from FuelPerks. No biodiesel added. ScangaugeII plugged in, set up for "Diesel A" but not calibrated.

Add: Last tank without actual MPG figure but 28.5 gallons (or thereabouts) added at the cost of $94.31 or so.
View: spreadsheet friendly fuel log output (for copy/paste)