You must sign in to add / modify vehicles in the EM garage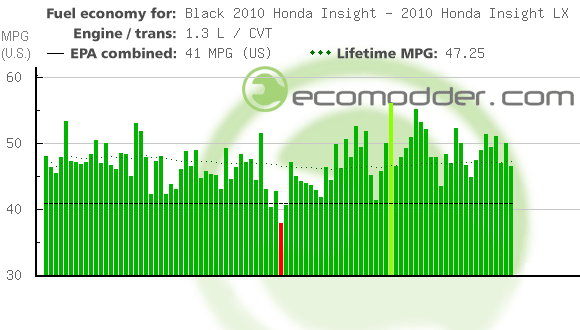 Efficiency log for: Hyper Black - 2010 Honda Insight LX
Lifetime Fuel Economy: 46.6 mpg (US), 5 L/100 km, 56 mpg (Imp)
90-day Fuel Economy: 46.6 mpg (US), 5 L/100 km, 56 mpg (Imp)
3-tank Fuel Economy: 46.6 mpg (US), 5 L/100 km, 56 mpg (Imp)
EPA Combined Rating / % over rating: 41 mpg (US) / 13.7% (based on 90-day fuel economy)
Total fills: 3
Average cost per gal/L: $2.21 per gal (US); $0.00 per L (price data entered for 3 fill/s)
Average cost per fill: $20.90
Average distance cost: $0.05 per mi. / $0.03 per km
Total fuel used: 28.33 gal (US), 107.2 L
Total distance traveled: 1320.2 mi. / 2124.7 km
Total cost: $62.70
Total fuel saved vs. EPA: 3.9 gal. (US) / 14.8 L
Total saved: $8.62 (based on avg. cost per gal./L)
Average tank distance: 440.1 mi. / 708.2 km
Fill date
Distance
Fill amount
Price
Fuel Economy
Details
2016-12-01
445.7 mi
717.28 km
9.812 gal (US)
8.17 gal (Imp)
37.14 L
330.66 kWh
$2.039
($20.01 total for this fill)
45.42 mpg (US)
54.55 mpg (Imp)
5.18 L/100 km
2.2 gal (US)/100 mi
741.89 Wh/mi
Tank was 87 octane regular, refilled with the same. FCD read 48.8 mpg at the end of the tank. This was almost exclusively rideshare driving.
2016-11-29
439 mi
706.5 km
9.47 gal (US)
7.89 gal (Imp)
35.85 L
319.14 kWh
$2.159
($20.45 total for this fill)
46.36 mpg (US)
55.64 mpg (Imp)
5.07 L/100 km
2.16 gal (US)/100 mi
726.97 Wh/mi
Tank was 87 Ethanol Free, but now filled with 87 Regular. Second tank in the black car, tried to go a little further with it, but economy wasn't as good. I'm using this car for Uber and Lyft mostly, I try to take the silver one if it's just going to be a commute.
2016-11-23
435.5 mi
700.87 km
9.044 gal (US)
7.53 gal (Imp)
34.24 L
304.78 kWh
$2.459
($22.24 total for this fill)
48.15 mpg (US)
57.84 mpg (Imp)
4.89 L/100 km
2.08 gal (US)/100 mi
699.84 Wh/mi
This tank was 87 Octane Regular, I refilled with 87 Octane Ethanol Free. This was my first tank, the FCD said I had 50.1 MPG at the end of it. I ended the tank early because I'm not used to the fuel gauge yet.

I pumped the tires to 44 PSI after the very first drive. I did a lot of driving in areas I had never been to before so I made quite a few U-turns. At least half of the driving was on the highway.
View: spreadsheet friendly fuel log output (for copy/paste)