You must sign in to add / modify vehicles in the EM garage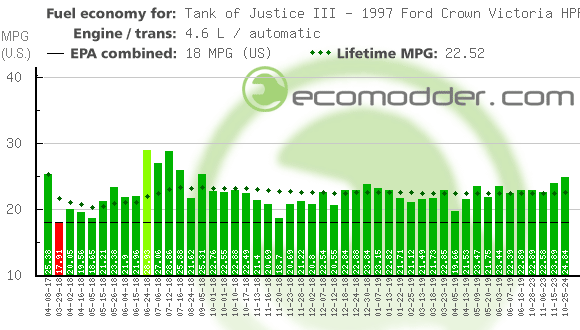 Efficiency log for: Tank of Justice III - 1997 Ford Crown Victoria HPP
Lifetime Fuel Economy: 25.4 mpg (US), 9.3 L/100 km, 30.5 mpg (Imp)
90-day Fuel Economy: 25.4 mpg (US), 9.3 L/100 km, 30.5 mpg (Imp)
3-tank Fuel Economy: 25.4 mpg (US), 9.3 L/100 km, 30.5 mpg (Imp)
EPA Combined Rating / % over rating: 18 mpg (US) / 41% (based on 90-day fuel economy)
Total fills: 1
Average cost per gal/L: $2.49 per gal (US); $0.00 per L (price data entered for 1 fill/s)
Average cost per fill: $44.35
Average distance cost: $0.10 per mi. / $0.06 per km
Total fuel used: 17.81 gal (US), 67.4 L
Total distance traveled: 452 mi. / 727.4 km
Total cost: $44.35
Total fuel saved vs. EPA: 7.3 gal. (US) / 27.6 L
Total saved: $18.18 (based on avg. cost per gal./L)
Average tank distance: 452 mi. / 727.4 km
Fill date
Distance
Fill amount
Price
Fuel Economy
Details
2017-04-08
452 mi
727.42 km
17.81 gal (US)
14.83 gal (Imp)
67.42 L
600.2 kWh
$2.49
($44.35 total for this fill)
25.38 mpg (US)
30.48 mpg (Imp)
9.27 L/100 km
3.94 gal (US)/100 mi
1327.88 Wh/mi
First long trip that I wasn't in a hurry for. Not too bad with the taller wheels and no tune for the motor.
Also, the speedometer was off. It should actually have read more miles, but I cannot correct for the height of the tires now.
View: spreadsheet friendly fuel log output (for copy/paste)