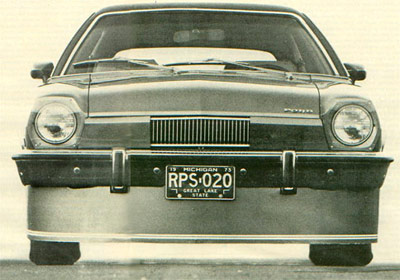 34 years ago this month in March, 1974, Car and Driver magazine ran a feature article about DIY modifications that improve fuel economy. The article was a response to the 1973/74 oil crisis – the first time people started seriously talking about improving fuel efficiency as a way to address energy security and high gas prices.
But the magazine did a lot more than just talk about efficiency. They grabbed the bull by the horns (okay, a Ford Pinto by the bumper) and actually did something about it. The article, called Project Car: Crisis-Fighter Pinto, documented six relatively simple modifications which actually saved gas.  And most of them would benefit new cars today.
After the jump: the six modifications in detail.
The Car & Driver guys didn't touch the Pinto's engine. Instead, they reduced the amount of work the engine had to do. Fuel is burned to overcome two predominant forces: rolling resistance and aerodynamic drag. At highway speeds, aero drag dominates, and that's where Car and Driver spent most of its effort – and the $11 for supplies.
Mod #1: Front air dam.
They started by making & installing an air dam beneath the Pinto's front bumper to divert as much air flow as possible away from the car's aerodynamically dirty underside. That single change accounted for fully one quarter of their gains.
Mod #2: Partial grill block.
Another highly turbulent air pathway is the cooling system. Most cars' grill openings are sized to keep the engine cool in absolute worst-case conditions (think Death Valley, pulling a trailer). By blocking part of the Pinto's grill, they were able to improve efficiency without adversely affecting engine temperatures in normal driving.
Mod #3: Smoother tail (rear spoiler).
The aerodynamically ideal shape at the rear of a vehicle is a gradual taper that helps minimize the size of the turbulent wake left behind. But the slope of the Pinto's rear window was too steep. By adding a six inch spoiler, they effectively changed the angle of air flow between the end of the roof and the back of the car. The result: a 7% MPG improvement.
Mod #4: Smoother nose.
While almost every new car sold today has a smoothly contoured front end, the Pinto's face left a lot to be desired. To partly address this, they made and installed convex plexiglass covers over the car's headlight buckets. That small change added 0.1 MPG.
Mod #5: Reduced parasitic loads.
Back in '74, most cars sported a belt-driven radiator fan. By removing two of the Pinto's four fan blades, it was made more efficient. Today, most vehicles have electric cooling fans that run on demand only.
Mod #6: Reduced rolling resistance.
The stock Pinto came with bias-ply tires. Switching to steel belted radials netted a 5% MPG improvement. While all new cars today come with radial tires, LRR (Low Rolling Resistance) versions are available which offer an equivalent improvement over "standard" radials.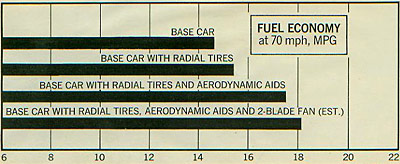 Car & Driver demonstrated that even with a so-called "economy" vehicle, the auto maker had left a lot on the table in terms of potential efficiency gains.
What's more, they concluded, "they are all the type of changes you can make – without going broke – and the type of change the car makers will have to make for the coming model years. Bluntly, this is the way it will be."
Unfortunately, this isn't the way it turned out. Particularly when it comes to fuel-wasting, poor aerodynamics, the auto makers still have a lot of room to improve.
Resources:
.
Popularity: 15% [?]