In the pantheon of very efficient production cars, there are perhaps three Hondas that truly stand out: the first generation Insight hybrid, the lean burn Civic VX, and the CRX HF.
Recently, a CRX HF owner further cemented that car's status on the list by achieving a stunning 118 mpg (US) in a fuel economy rally in New York state.
The rally, organized by the Adirondack Motor Enthusiasts Club (AMEC), took place August 23 over 104 miles of scenic, lightly travelled, winding roads through the southern Adirondack mountains (with admittedly very MPG-friendly speed limits of 45 to 55 mph).
It's fair to say the 118 mpg performance that Chang Ho Kim coaxed from his modified 1989 CRX surprised event officials. Â The marshalls – who observed each of the 25 competitors' vehicles being filled to the brim both at the start and finish for the most accurate MPG calculations – brought Chang's CRX back to the pump several times at the end to ensure they'd squeezed as much fuel as possible into its tank.
(For comparison, the next highest scores were 106 mpg (US) from an ecomodded 1998 Geo Metro/Pontiac Firefly and 90 mpg (US) from a 2000 VW Jetta TDI – more details here.)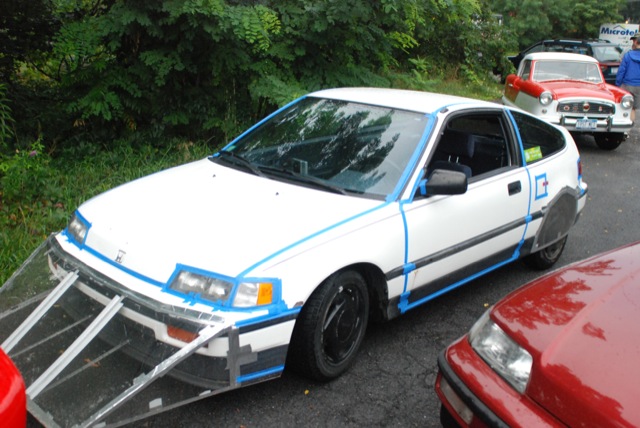 In stock form, the 2nd generation Honda CRX HF is a good platform for fuel economy. It's light (1830 lbs), has a small 1.5L 62 horsepower engine, and relatively tall gearing.  It's rated at 41 city / 50 highway / 45 combined mpg (US) by the EPA's  revised 2008 ratings.
Modifications, mechanical & racing experience helped secure win
How did Chang Ho Kim pull a 118 mpg rabbit out of his hat? Â EcoModder recently spoke to Chang to shed some light on his background, his CRX and his driving techniques.
EM: Let's start with a bit about yourself. Â What you do for work & fun?
CHK: I am a mechanic in my own shop, FunHondas, in Maynard, Massachusetts. Â I mostly do general repair and maintenance of Honda/Acura cars. Â I do a lot of tire work as I am a preferred installer for www.tirerack.com. Â You can type in zipcode 01754 to see what is said about me and my shop on their website.
For fun I like to travel and go camping with my family. I also enjoy photography.
EM: Is it true this was your first fuel economy competition?
CHK: This was my first fuel economy run. Â I had never even heard of it before I saw the post from the AMEC organizers on the New England Region SCCA (Sports Car Club of America) web site.
EM: So you've got racing experience then? Â That would explain your skill behind the wheel.
CHK: My passion has been for autocross. Â I started autocrossing in 1991. Â I have placed as high as 3rd place at the SCCA Solo Nationals in a HS 89 Civic Si. Â Last year I campaigned a DS 00 Integra Type R. Â This year I am running my ST 89 Civic Si. Â I also have a STX 89 Civic Si that I have trophied with at the Solo Nationals.
Recently I started to rallycross a M2 90 Civic GSR and have been having lots of fun playing in the dirt and snow and ice. Â I am currently the season points leader in M2 for NER/SCCA. Â That is mostly due to the winter events where my studded Nokian Hakka5 tires do really well. Â I still have a lot to learn about driving in gravel.
I have ice raced my 01 Integra Type R, autocross style, using Nokian tires and have done very well, beating the AWD cars in the studded tire class with my FWD car on studded Hakka5 tires.
EM: OK, so you've obviously got experience with car control & precision. Â Where did you pick up your fuel saving techniques?
I spent a lot of time on the internet before the competition starting at the AMEC site and linking to many others: Aerocivic.com gave me a lot of ideas for aerodynamic modifications. Â EcoModder.com gave me many tips on driving technique.
EM: Before we talk about your driving techniques, tell us a bit about your car preparation and mods.
CHK: It's a 89 Honda CRX HF with about 150,000 miles on the odometer that I got from a client.
General maintenance before the fuel economy rally included:
I had the AC fixed, I hate hot and muggy.
Redline MTL in the tranny and Mobil1 0w20 in the engine.
new Honda airfilter, cap, rotor, wires. Â They all needed replacing anyway.
Modifications before the rally included:
Tires: low rolling resistance 155/65/14 Nokian HakkaR snow tires, brand new for the event, pumped up to 50psi mounted on Honda 14×5 alloy wheels
Shocks: Konisport, revalved with SPSS1 valving, double adjustable, shortened body, set to soft
Springs: Ground Control coilovers with 350 front 250 rear springs.
Lowered car 2 inches, front camber at -3.5, toe set to zero front and rear, zero thrust angle
Front wind deflector and rear wheel skirts made from thin polycarbonate, aluminum duct tape, self tapping screws and 3/4″ aluminum band
masking tape to cover all panel gaps / seams, passenger door handle (forgot to do the driver side door handle)
removed passenger side mirror
I added lightness by removing the passenger seat, spare tire and tools, floor mats
6 pound race battery.
EM: tell us about the driving techniques you used.
CHK: I had a small cooler with a little ice and a small towel to cool myself off as I drove with the windows closed and the AC off.
The race type suspension meant I had better momentum coming out of the turns so less need to gas after a turn.
Where safe, I took a classic race line to maximize momentum. Â If I had to gas in a turn, I took the shortest line to minimize distance.
Pulse & glide where appropriate.
EM: Did you use fuel economy instrumentation? Â Navigation?
CHK: The HF has an upshift light that I find annoying. Â I used a Garmin Nuvi 760 to keep track of my average speed.
EM: Any plans for future economy competitions?
CHK: I suppose I have to come back in 2010 to defend my title with AMEC, but we will see what next year brings and if I still have the CRX. Â If I do come back, it will probably have a boattail and I will be more careful with the fillup at the start and not spill any at the finish fillup.
EM: Chang, thanks for the interview and congratulations again on your win!
—
For more coverage of the AMEC event see the complete forum thread.
Popularity: 82% [?]