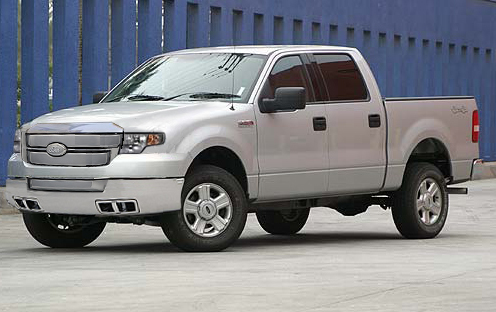 If you haven't noticed, people aren't exactly keen on driving trucks and SUVs these days. This isn't just affecting commuters, but also city governments, businesses, and truckers. Just last month the F150 finally fell from it's position as the best-selling vehicle in the US, and now it's come out the Ford is delaying the release of the iconic truck.
Originally, production of the 2009 F150, a highly anticipated redesign, was supposed to begin production this month. According to Edmunds, however, that production schedule has now been pushed back two months until August and September. This is amid news from Ford that the company will be scaling back its production of trucks and SUVs while working on a more fuel efficient vehicle lineup.
Ford will be rereleasing it's Fiesta subcompact, to be built in Mexico, in 2010. Ford also plans to update its popular compact car, the Focus, so that it is common with the European model. The 2011 Focus will not only be redesigned, but should get much better mileage as the company looks to compete with the Honda Civic and Toyota Corolla.
If you liked this post, sign up for out RSS Feed for automatic updates.
Popularity: 17% [?]