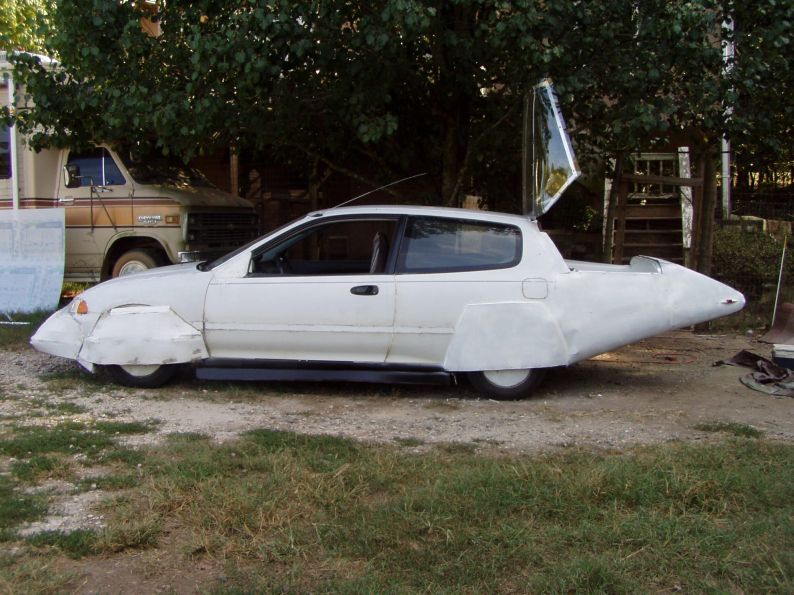 You may have seen the Aerocivic already, but it certainly deserves even more attention than it has already gotten. Sure, it may be a little rough around the edges, but I'll tell you why the aerocivic is worth so much talk: it's not innovative.
It may get great gas mileage, but it's not innovative.
Why then all the fuss?, you might ask. Well, the answer to that is a little bit more interesting. The aerocivic is a great display of very old knowledge finally being put to use. We've known for decades that aerodynamics plays a large roll in automotive design, so it's really shocking that we never see aerodynamic concepts put to good use.
Basjoos is achieving great numbers with this car, as can be plainly seen in his fuel log. I know several people with Civic Hybrids, Prii, and other high mileage cars. But I don't know anyone who consistently gets gas mileage like that at high speeds on the highways, do you? In effect, Basjoos has taken the road block that is major auto manufacturers out of the picture and ecomodded his own superior mileage machine.
The results speak for themselves:
The end result is a car with such low drag that the results of coastdown testing is linear out to 90mph (it coasts almost as well at 80mph as it does at 50mph). I have to get it over 90mph before I start to feel the wind load from high-speed driving. OEM max speed was 95mph. I have had it up to 100mph with plenty of power remaining at that speed (estimated top speed of about 140mph). Wind noise is much reduced from stock. Approximate mileage on a flat road at 85F, 95mpg at 30 to 65mph, 85mpg at 70mph, 65mpg at 80mph, 50mpg at 90mph.
So, indeed, kudos to you, Basjoos. Your vehicle is a shining example to individual ecomodders and even the stubborn auto industry.

Popularity: 2% [?]