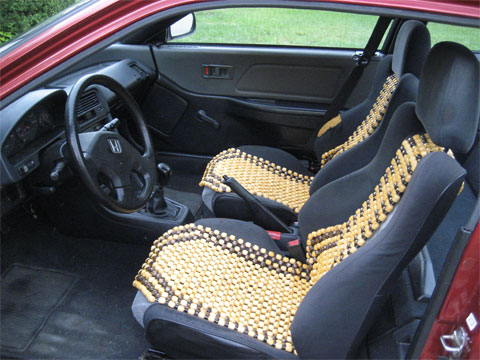 A few months ago in a post about A/C alternatives I promised you I'd try some of the gadgets and get back to you. Well, summer has finally hit and in between sweaty drives around town I've been doing a little research. Here's what I've learned:
the A/C shirts, according to some cycling reviews I've read, are kind of uncomfortable and don't last very long. Coupled with the high price, I let this one pass;
this was the cheapest option, and therefore first on my list, stay tuned for more info;
seems like it would work better than #1, but again, cost is a factor. I might give this a try later;
definitely still on the to do list, expect an update on this before I shell out for #3;
this is definitely next up with the beaded seats already taken of, when I return from HybridFest this is my next mod.
Before thinking about these tricks for alternative A/C, I'd always thought those beaded seat covers were for weirdos. Luckily, the other founder of EcoModder told me that they did a great job of keeping you cool in the summer. I was a little skeptical, but when he showed me his beaded covers and I realized I could get a pair for just $26 dollars (shipping included), I figured it was worth a try.
The Komfort Beads showed up on my doorstep the day after I ordered them, and I went right ahead and threw them on both my passenger and driver's seats. It wasn't very hot outside, so I couldn't tell how they worked during short trips around town, but today they got their first real trial.
The Date
When I removed my A/C (most of you will think I'm a fool, but it never worked anyway), I decided that the ultimate replacement would be found when I could go to a date and take a date in my car without showing up a puddle of sweat or reducing her to one. Today I got to put this to the test, as it was extremely sunny and blisteringly hot on the way to an engagement with a lady caller.
I won't get into the date, but the beads were a success. When I showed up I was a little toasty, but my back felt much nicer than usual and wasn't a pool of sweat. The seat was still slightly uncomfortable, but it was definitely refreshing to have my back feeling good. When she got into the car, she agreed. I'm sure she's used to A/C, but I didn't hear any complaints about the heat. The only negative seemed to be that the beads could tug at longer hair.
Success!
Yep, I'm going to call it a success. The beads don't put you in a 70F paradise, but they greatly improve summer driving and reduce sweat. Especially for just $26 for a pair, this was a great deal. Does anyone have any other beaded seat cover brands they can recommend?
If you liked this post, sign up for out RSS Feed for automatic updates.
Popularity: 24% [?]