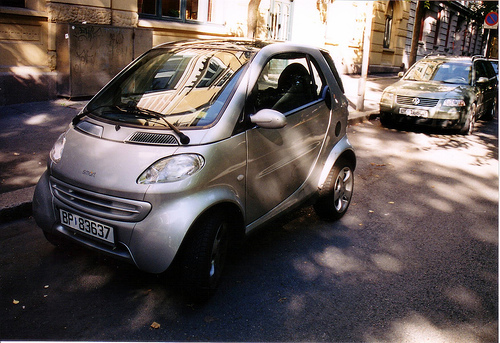 image: Mr. Thomas
A few months ago Daimler reported that they were testing 100 electric versions of its Smart car in London, and that if all went well they would work on putting the car into production for the general population to buy. Well, now Daimler CEO Dieter Zetsche has said that all did go well. This means that the company will release its EV Smart in 2010, the same year the Chevy Volt is scheduled to come out.
Personally, I find it funny that Daimler can go from no electric car to a firm release date so easily and with so little fanfare, while the blogosphere seems poised to trip over every word that comes out of Bob Lutz's mouth about the not-even-EV Chevy Volt. But, that's really a story for another post.
No price has yet been released for the EV to be. Because the Smart is known not only as a fuel efficient car, but a cheap car, Daimler is deciding whether it wants to sell the batteries with the car or lease them. Leasing has the advantage of a lower up-front cost, but will also mean continued cost of ownership.
Also, no mention was made of whether or not the Smart EV would be released in the US. Seeing as how the car just made the jump across the pond, it's likely that the first incarnation will be a Europe-only affair.
If you liked this post, sign up for out RSS Feed for automatic updates.
Popularity: 7% [?]