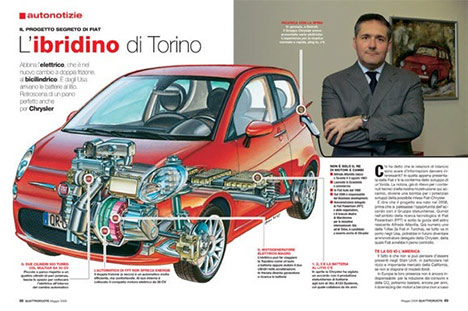 Small cars get the best gas mileage. So do hybrids. So wouldn't a small hybrid get really good gas mileage? Something like, say, a Fiat 500 hybrid? Fiat certainly thinks it's a good idea.
Up until now price has been the major opposition to small hybrids. Small car buyers tend to be cheap car buyers, so it has always been assumed that the "hybrid tax" would be too much for many people to buy a small hybrid car.
However, recent years have seen a resurgence of small cars with all kinds of buyers. Small cars are now a way to reduce environmental impact and not just wallet impact. This, coupled with decreasing hybrid system and battery prices, has made the small car hybrid economically viable.
When Fiat is done with their design, it will likely be coupled to their new 900cc turbocharged engine. This combination would have good torque and plenty of horsepower while delivering stellar mileage in the city.
And here's the kicker: they plan to share the technology with Chrysler. So, even though we won't be getting a Fiat 500 anytime soon, I'm certainly looking forward to seeing something using this technology on Chrysler's showroom floor.
Source: Treehugger
Popularity: 4% [?]