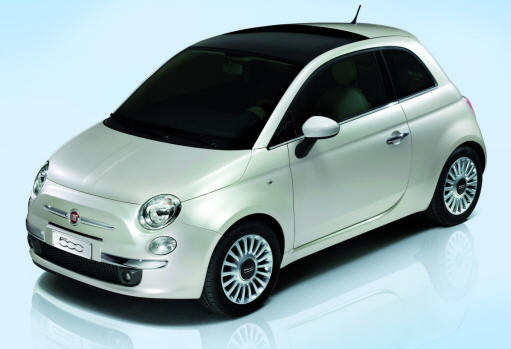 Fiat is well known for very small cars like the above 500, but up until now that fame has not extended far beyond Europe where cramped cities and narrows roads have made small cars a necessity for many drivers. For a few years there has been a little controversy surrounding the fact that Japan's kei cars and Europe's similarly small sub-compacts completely outpace the U.S. vehicles in terms of mileage but are not offered in North America even by the very companies that produce them successfully in other markets.
However, it seems like that is about to change.
That's because Fiat, the famous European maker of mini autos now owns 35% of Chrysler. How much was Chrysler worth to Fiat, you might ask. Well, it's hard to say, because no money actually changed hands. What Chrysler gets in exchange for 35% of the company is access to Fiat's small car platforms.
Chrysler, which is owned privately and has already put in for a government bailout, is grasping at straws. You can expect that they will have to cut down on some of their underperforming brands, but at the heart of the matter is the fact that the company doesn't have any notable small, fuel efficient cars (they might have some but I say "notable" precisely because they have not marketed for fuel economy enough to make an impression on the market).
With Chrysler having been seriously in danger of going under recently, it makes sense that they would enter into this arrangement, but you have to wonder what Fiat will get out of it. If Chrysler succeeds with Fiat's vehicles the company will have a large stake in a successful company. However, if Chrysler fails Fiat's stake might not be worth anything. If this is the case, Fiat might at least accomplish the goal of spreading their platform to North America in preparation for the entrance of a Fiat brand.
Anyway, no one can say quite what will come out of this since the deal is fairly new, but hopes run high on this side of the pond at the prospect of a quick infusion of fuel efficient vehicles rather than a long run up as Chrysler tries to develop its own line of small vehicles.
Would you buy a Chrysler 500?
Popularity: 18% [?]