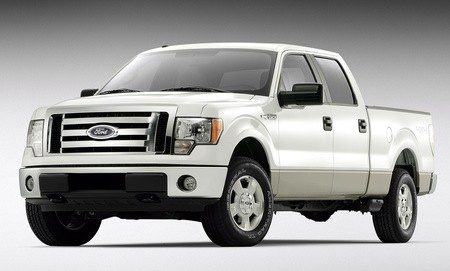 The F150 has been making news during the latest gas crunch, losing its #1 spot to the Civic and then having the new model year released pushed back, but it seems that things might be turning around for the iconic American truck. ABG reports that the 2009 F150 will come in a new SFE trim, which stands for Super Fuel Economy. The SFE trim will boost gas mileage 1 mpg to give the trucks 15/21 mpg by the new EPA ratings.
This new SFE model is meant to compete with GM's XFE models, which were recently expanded to some trucks and SUVs. SFE is slightly unfortunate, because it sounds so much like XFE, and because "super fuel economy" gives you the idea that "wow, this vehicle must get great gas mileage." However, it's a truck, and it while it might get good mileage for a truck, or compared to other trims, it's definitely not "super." I'm not hating on Ford here, but it would've been more accurate to choose a name with the connotation of "better" than "best."
Setbacks and funky names aside, Ford has managed to match the fuel economy of GM's trucks, and while trucks are definitely not going to be the way of the future for most consumers, they're still the bread and butter of these two companies. And for my part, I'm not going to complain about anyone getting better fuel economy than they would otherwise.
If you liked this post, sign up for out RSS Feed for automatic updates.
Popularity: 3% [?]