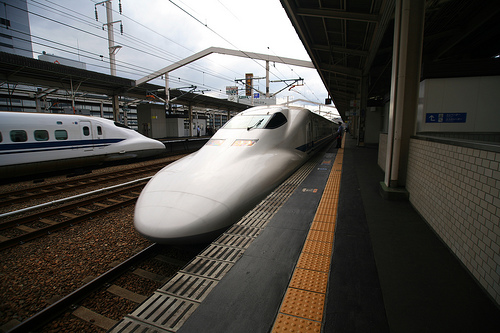 It was just the other day when I was regaling a few friends with an account of the time that California's governor, Arnold Schwarzenegger, almost walked right over me while I was taking a photo. I was alerted that Gov. Schwarzenegger had just visited Japan to check out the shinkansen (high speed rail) system we have here, which made for a very kitsch news piece about Schwarzenegger towering over everyone present during his inspection.
While the shinkansen was theorized in many years before actually being built in Japan, the project really came together when it got government backing in 1958. From that point, it only took 6 years to open the main line, stretching from Kyoto to Tokyo to the public, in 1964. Since then the line has been aggressively upgraded with new extensions added to bring most of the country into the reaches of the system. For more about the history of the shinkansen, check out wikipedia.
I'm sure you're all thinking, "So what? That was then, this is now. The issue in the Northeast is complicated especially by all the existing, modern infrastructure." That's true, so let's compare it to a modern example of shinkansen building in Japan, which, as luck would have it, is happening right in my back yard. The project to which I refer is the Kyushu shinkansen line stretching from Fukuoka to Kagoshima.
This project has taken a bit longer, with the inaugural stretch from Yatsushiro to Kagoshima City taking from 1991 to 2004. Progress here, of course, was slowed by the mountainous terrain in Japan's westernmost reaches. However, major construction on the Kumamoto section of the rail only began in the last few years and is scheduled to be completed on March 12th, 2011, meaning that hundreds of kilometers will be spanned by completely new rail in just a few years.
Back to the U.S., ABG reports that Amtrak is planning on building a high speed rail stretching from Boston to Washington D.C.. The proposed line would cut the commute by train from over six hours to less than four.
I'm sure there are many good reasons why they are predicting a project on the East Coast could take 30 years to complete. Expenses, construction equipment, location, etc. all factor in to such a protracted timeline. However, if you really want to cut to the quick of the issue, it's all about priorities. It might cost more, it might be loud and noisy, but if we really wanted a convenient, fast, low-impact transit solution between Boston and Washington D.C., we could have it in 10-15 years.
So the real question is, how much is an extra 15-20 years of high speed rail worth to commuters and taxpayers? I'm no engineer, but doubling the cost and floating some debt might be worth it to give our aging transportation infrastructure along the coast a full two decade jump ahead of the current best estimate.
Photo credit: laszlo photo
Popularity: 28% [?]