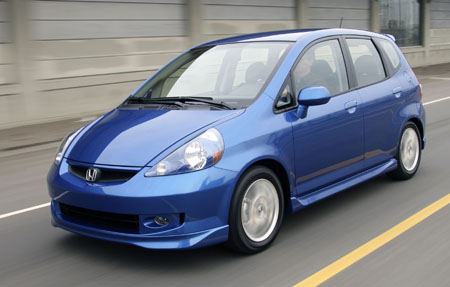 No one is debating that it's been a hard couple of months for everyone in the auto industry. Some days it seems like no one is buying anything. Japan in particular has been rocked by a strong Yen and plummeting exports. This means that not only is the country sending less vehicles abroad, but that the money they receive on every sale is worth less in the Japanese domestic market.
However, there seem to be a few rays of light at the end of the tunnel. Many will (naturally) point to the Toyota Prius and Honda Insight as representatives of the new class of green car in North America, but I think last month's sales figures from Honda paint a different picture. While hybrid sales are still doing comparably well in the grand scheme of things, small, cheap, and fuel-efficient cars like the Honda Fit are surging forward in the automaker's lineup.
What does this mean? I think it represents a shift in the American car-buying mindset. Times are tough, and people are not only trying to save money on gas, but they're cutting the fat. Do you really need to spend that extra $10,000 on a Prius when you could get a small car that is still among the most efficient in its class?
What do you think? Am I premature in thinking that hybrids are falling by the wayside in the face of more conventional conservation, or will Honda see a resurgence of hybrid sales with their more affordable Insight?
Popularity: 5% [?]