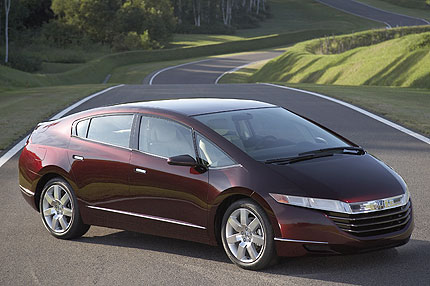 You hear a lot of hype about hydrogen fuel cell cars from manufacturers like GM and BMW, but the fact of the matter is that the Honda FCX Clarity was the first hydrogen-powered car to become "official," whatever that means anyway.
For $600 a month, if you live in either Torrance, Santa Monica, or Irvine, California, you will be able to lease Honda's FCX Clarity. In starting this program this summer, Honda will become the first major manufacturer to lease their hydrogen fuel cell cars. GM is currently just giving its it people to use. Financially, these things all cost millions to build, so for Honda the lease money is really more of a symbolic thing than anything. But I'm sure there will be people knocking down the doors to cough up that money.
The lease will last for three years, meaning that Honda is planning on giving people a decent amount of time with the cars, but after which they'll probably yank them up in order to pave the way for newer and better hydrogen technology. Let's just hope that, unlike in the electric vehicle case, there is a better and newer model instead of every manufacturer cancelling their programs.
Also, Honda has said that in the near future they plan on building a hybrid based on the FCX body style, so those of you who liked the look but not the hydrogen or the 20 year wait may still have a shot!
If you liked this post, sign up for our RSS Feed for automatic updates.
Popularity: 3% [?]