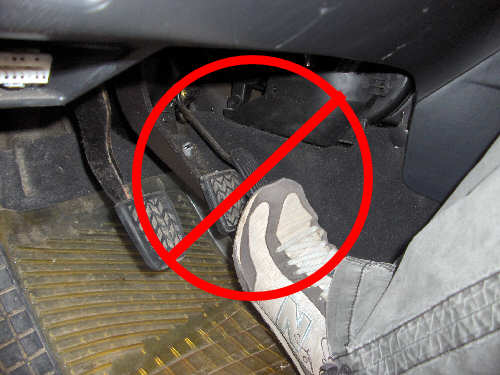 This post is part of a series on basic hypermiling techniques, intended to expound upon a more basic description in order to make them more accessible as well as put them in the context of safety and practicality.
Driving without brakes (DWB) always makes me think of some run away roller coaster ride. You know, children screaming for their lives and all that good stuff. However, it is actually a very useful technique that can save you a lot of fuel in heavier highway traffic and in the city. This technique overlaps with a lot of other techniques which won't all be mentioned here.
The whole idea is generally to conserve momentum, momentum you have built up by burning gas. For example, you burn gas to get up to 60 miles per hour. Then traffic slows down suddenly and you use your brakes to slow to 40 mph. Shortly after, traffic speeds up again so you accelerate back up to 60 again. How many times does this happen in your daily commute? Well, what if you only had to accelerate up to 60 once? You would have saved the gas used to go from 40 back up to 60. This is an example of what DWB does for you.
What would you do in this case if you were driving without brakes? Well, first you would leave a good cushion of space between you and the driver in front of you. Next, you would watch well ahead of the car in front of you. When you see brake lights from a few (or more) cars ahead you let off the gas and coast. Ideally, by the time you catch up to the car ahead of you they should already be accelerating again and you shouldn't have to use your brakes at all. If you find yourself still braking a lot, increase the following distance to give yourself a bigger cushion.
The same thing applies for city driving. Watch the lights and try not to use your brakes. Slowing down is pretty much inevitable, but minimizing brake use can greatly increase your gas mileage.
The point is, if you know your going to have to slow down at any point, stop accelerating as soon as possible and start coasting. By using the brakes you are wasting gas – you're effectively turning it into brake dust.
This may sound like common sense, but so many drivers neglect to do this day in and day out. Just think about how much gas is wasted when you see brake lights going to work tomorrow. It's amazing how much fuel could be saved with this technique alone.
If you liked this post, sign up for out RSS Feed for automatic updates.
Popularity: 7% [?]