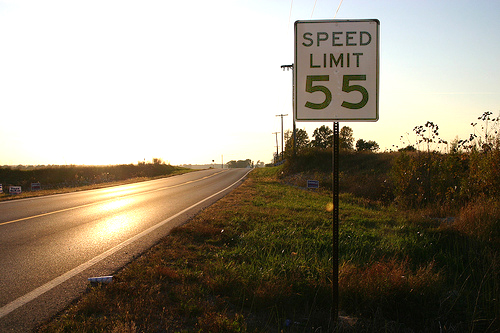 This post is part of a series on basic ecodriving techniques, intended to expound upon a more basic description in order to make them more accessible as well as put them in the context of safety and practicality. 
Reducing your speed is one of the simplest things you can do to increase fuel economy.  Keep in mind I did not say it is the easiest thing to do.  I'll admit it, most drivers like speed.  But, it is a very simple thing to do.  You just have to let off the pedal a little bit.
On average, a 5 mph reduction at highway speeds (ex. From 70 to 65 mph) will net you an 8% increase in fuel economy.  Of course this differs from vehicle to vehicle.  The larger your vehicle the larger you gain is likely to be.  Fueleconomy.gov says that you can see between 7 to 23 percent increase in mileage simply by slowing down to the speed limit.  What about even a little bit under the speed limit?
Here is a some testing done by MetroMPG.com comparing speed to mileage.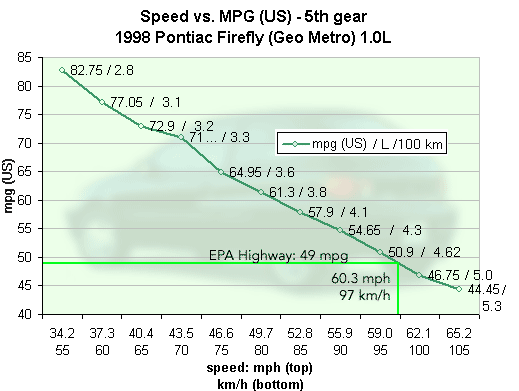 There is also the fact that the speed limit is also a much safer speed should speak volumes to the car buyers who buy large vehicles because they are safer.  If you really want to be safe, slow down to recommended speeds.  Road engineers design roads with these kinds of things in mind.
A little more on the technical side is the fact that aerodynamic drag increase exponentially with speed.  So, if you double your speed you have quadrupled your aerodynamic drag.  So, you can see small increases in speed can drastically increase drag.  Aerodynamic drag is also the main force your engine must overcome while traveling at highway speeds.
So, since your going slower your going to be late all the time now, right?  I sure hope not.  Slowing down from 60 mph to 55 mph on an hour trip takes you roughly 5 more minutes.  Anything less than an hour trip is going to be less and for that 8% fuel savings you are sure getting a good deal.
The last thing I will mention is stress.  How many times have you come up on a car going slower than you, and gotten all flustered as you try to find a way to zip past it?  Stress is a serious issue with people these days.  Your daily drive can be a great time to unwind after a stressful day at work.  Its a lot easier to unwind while just cruising along at the speed limit where you don't have to worry about that slow poke who won't get out of your way as you rush home.  Take a few minutes longer to get home and feel better at the same time.
If you liked this post, sign up for out RSS Feed for automatic updates.
Image: yr0gerg @ flickr, under CC
Popularity: 5% [?]