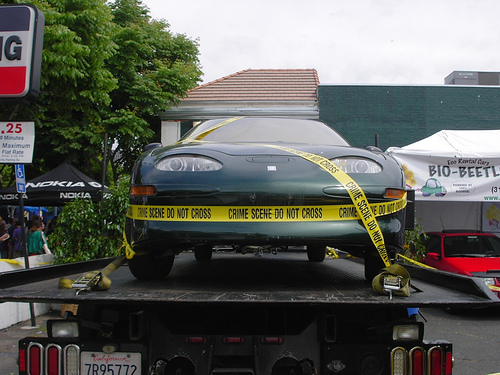 I thought there was no better image to break the news of a new movie from the creators of "Who Killed the Electric Car?" than one of GM's iconic EV1 dressed up as a crime scene. Besides being a great film, "Who Killed the Electric Car?" gave GM and other automakers a bad rap for killing off their EV projects. The good news for GM is that they've cleaned up their act with the highly anticipated Chevy Volt.
That's also good news for the filmmaker,  Chris Paine, who is now working on a film called "Revenge of the Electric Car." If it were me, I would've called it something like "The Electric Car Strike Back" or "Return of the Electric Car," but then I couldn't hold a video camera still for the life of me.
Anyway, regardless of the name, the movie promises to be interesting and I'm excited to see what Chris thinks of all the new electric options coming to market soon (including those that already have). For those of you that haven't seen the first movie yet, I've embedded part one (on youtube) below. You can follow along through the whole movie if you have the time. Enjoy!
httpv://youtube.com/watch?v=9vD33UMAtBY
If you liked this post, sign up for out RSS Feed for automatic updates.
Image: osbornb
Popularity: 2% [?]