Image credit: James & Vilija

One of EcoModder's founders (a former driving instructor) recently gave an in-car ecodriving lesson to a "normal" driver — someone who'd never even heard the word "hypermiling" before.  He described how demonstration and coaching significantly improved her city MPG.  Below is a shorter version of a forum discussion describing how he laid out the session, and the student's results…
Many moons ago I used to teach in-car defensive driving. One of the 15 lesson plans in the course supposedly focused on fuel-efficient driving techniques. (I say "supposedly" because if the driver was still having a hard time with the basics like successfully turning corners, the instructor wasn't going to be spending much time talking about preserving momentum and the finer points of "driving without brakes"!)Â  But that was ages ago, and the overwhelming majority of the kids going through the course didn't really care about saving fuel anyway.
I tell you though, it sure is nice teaching someone who is genuinely interested in the subject, and I did that today for the first time in forever.
The student:
A retired newspaper reporter – a member of a local environmental group interested both in saving money and reducing fuel consumption for ecological reasons.
Her car: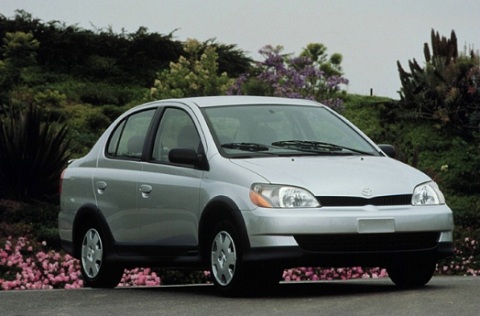 2004 Toyota Echo (Yaris) sedan, 1.5L, automatic
E.P.A. rating: 28 MPG (US) city / 36 MPG (US) highway
The route:
A ~15-minute long city loop that included lots of turns and traffic lights
The execution:
I asked her to bring the car fully warmed up. I plugged in a ScanGauge, set the engine displacement and reset the trip meters.
And… we're off!
Lap #1:
She drove first to establish a baseline, with no coaching at all. I asked her to drive "normally" and kept a good conversation going so she wouldn't subconsciously focus too much on driving "nicely".  I really had to bite my tongue to keep from giving her pointers along the way.
Lap #1 results:
She did pretty well! 30.8 mpg (all US gallons) put her already 3.8 mpg / 14% above the city EPA rating! But I spotted a few obvious bad habits that could be tuned up.  (She could have benefited from increased following distance, for example.)
Intermission:
Tire pressure check! The placard for the Echo was 32 PSI all around, and the tire's max. sidewall inflation was 44. They weren't horrible, ranging between 24 & 36 PSI. I split the placard/max. difference and set them all to 38, warm.
Lap #2:
I drove the route, all the while giving a running commentary describing the fuel-saving techniques I was using. I didn't do anything fancy or scary – no howling tires through high-g turns, no shutting the engine off (though I did shift to neutral for long lights). Mostly it was plenty of anticipation & planning, "driving without brakes", and timing the traffic lights.
Lap #2 Results:
37.2 mpg, or 33% over the car's EPA city rating.
Lap #3:
She took the wheel again, but this time I coached her as we repeated the route.
Lap #3 Results:
34 mpg, or 21% over EPA.
Post game discussion:
She really enjoyed the session, and did quite well.   With coaching she saw how she could beat the EPA by 21%, and improve from her Lap #1 baseline by 10%.  Who wouldn't be happy knowing how to get 10% more out of a gallon of gas?
The high point — her  "aha!" moment when the light bulb went on in a big way — happened while coaching her toward a very stale red light.   We were in the left lane, and there was a line of 4 cars stopped ahead of us, but only 1 car stopped in the right lane. We had been coasting for a while, and I suggested a lane change to the right would give us more coasting room, and the light might just change before she even needed to brake. Sure enough, it worked perfectly and we ended up gliding past a gaggle of stopped cars that had sped away from us at the previous light. Classic ecodriving!
We reviewed the main points, and reviewed the numbers. This showed her that even though she was already probably an above average driver, reducing fuel use another 10% was easy, and 20% was within reach. I suggested she get an MPG gauge to keep her motivated. She took notes, but I also emailed her a "report card" afterward.
We also spent about 30 seconds discussing highway efficiency tactics: dead simple – slow the eff down.
The whole session took an hour and 10 minutes.
I had fun too.  I'll probably do more of these sessions with other members of her environmental group, maybe once every week or two.
—
Read the complete discussion about this ecodriving session in the EcoModder forum: Have you ever given 1-on-1 ecodriving instruction? (Here's how I did it.)
Popularity: 2% [?]