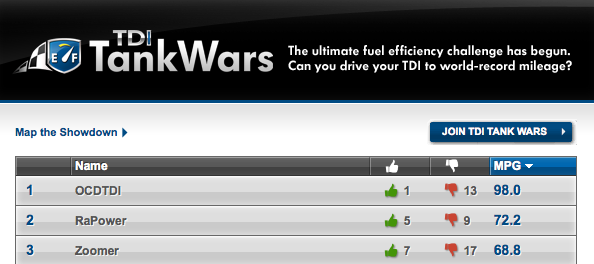 VW has started a clever campaign to help consumers see the kind of mileage you can get with a TDI. It's called TDI TankWars and what it does is challenge owners to score better than the World Record (58.8) in their VW TDIs.
The site includes information about the tanks, drivers, and cars. It also lets you thumb up or down individual tanks based on how much you believe the claims. As you can see in the above image, most people have a negative approach to the higher scores.
So far only 5 tanks have beaten the 58.8 mpg World Record, though that number should increase quite a bit in the future as it's really quite low (as far as world records go). From the main TankWars page you can also check up on the individual users, leave comments on tanks, and view photo and video evidence confirming the claimed fuel economy.
Overall, this is a great attempt by VW to connect users with fuel economy, and it includes interesting details like tire pressure, though weather conditions would frankly be more useful. So, if you're interested in the competition, check it out for yourself at the TDI TankWars homepage.
Popularity: 4% [?]