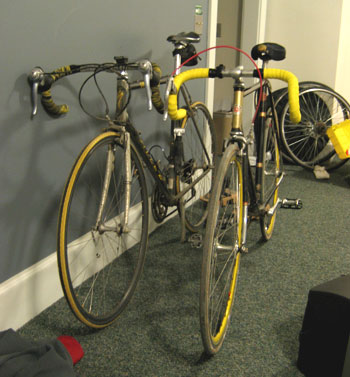 You should be happy!
You read correctly: alternative transportation can pollute more than the regular. That's because, for me, I have made my bicycle my primary vehicle and my car a hated backup.
Now, how did I accomplish this? The main thing, for me, is that I got involved with my bike and learned to love it and cycling. Because, after all, if you love what you're doing, you're a lot more likely to do it. One of the majors roadblocks to cycling, trains, and buses as a form of transportation is that it's just not as cool, easy, or beneficial as having your own car.
I counter this by saying that one the train I don't have to pay attention or even stay awake. I can read a book, catch up on some homework, or play Nintendo DS. The same is true for the bus.
On my bike, the key is keep in mind that commuting is exercise and to be proud of both my fitness and the bling level of my bike. Sure, it's vain, but vanity is a motivator, and a good one.
For example, if you see my the bike to the right in the lead picture, it's got brand new, obscenely yellow tape. Eventually the frame will be yellow, and the wheelset already is. Beyond this, I've converted it to a fixed gear for added attractiveness and simplicity. Sure, I spent a few dollars on the thing, but now I'm proud to ride it – sometimes I even make excuses to take it somewhere when the car would be the better choice.
So, in our quest for a fossil fuel free lifestyle, let's not forget that it should be a fun thing, and not a painful, never ending chore!
Popularity: 2% [?]