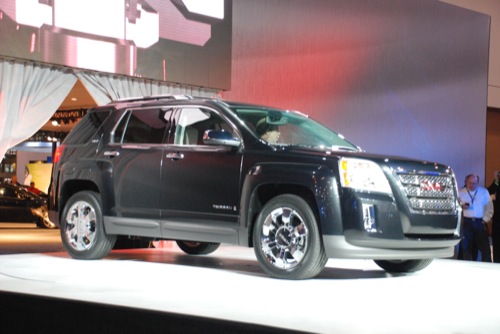 Recently, auto news has been dominated by green car coverage. No one has been immune to this, nor has it been hard to ignore that currently automakers will have to innovate and take environmental responsibility to the next level in order to survive.
However, you wouldn't know this if you had seen many of the press events at this year's New York International Auto Show. Chrysler wowed the audience at first by driving onstage in a Fiat 500, which won the 2009 World Car Design of the Year award. However, after a brief introduction of the car, Chrysler began a long introduction of their all-new Jeep Grand Cherokee.
Like many other automakers, Chrysler is teetering on the brink of bankruptcy. Perhaps the knowledge that small, efficient cars do not have the profit margins to bring the company back into the black is motivating the company. Perhaps the company is too far away from offering some of Fiat's small cars in the United States to make any concrete promises for the coming years. However, the focus on SUVs extended well beyond Chrysler.
Like it's American counterpart, General Motors also tried to wow the press with the release of another SUV, the Terrain. Like Chrysler, GM highlighted the expectation that SUV and crossover markets will continue to expand in the coming years, even given evidence that gas prices will increase once the current economic downturn ends.
However, the American makes are not the only ones that are trying to turn the clock back to the 1990s. Japanese automaker Honda highlighted their Element and new Pilot SUVs while Mazda unveiled a new CX-9 crossover SUV. The German manufacturers followed suit with a new X6 SUV from BMW and a hybrid SUV from Mercedes.
Will the SUV make a comeback?
It's hard to say. Gas has gotten cheap again and large trucks with steep discounts are beginning to sell again. Not only are there plenty of SUVs left on the lots, but the automakers are still pushing new models onto the market.
What's worse is that we are meant to believe that these new SUVs are not just SUVs, but the solution to our environmental and fuel efficiency problems. Greenwashing: yes. Greenwashing with a hint of truth: not quite.
While GM was busy pushing it's hybrid SUV with EPA ratings of 21/22 mpg, Ford notably took another tack, allowing test driving of its Fusion hybrid and the coming 2011 Ford Fiesta, both of which will offer EPA ratings nearly double that of GM's hybrid SUV.
The message from the automakers was seemingly clear: we'll have efficient cars in a few years, but for now, buy our SUVs.
What do you think: Will the SUV market experience a resurgence? Are automakers turning back to these vehicles in an attempt to increase profit margins? Are fuel efficient cars just too far off to be viable?
Popularity: 3% [?]