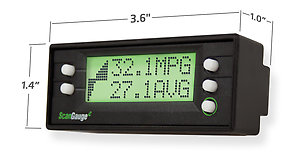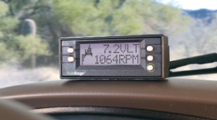 Plug and play
Works in 1996 and newer vehicles (see compatibility list)
1 year Warranty - Parts and Labor
Price: $99.95 - shipping included in U.S. (for international shipping, contact us)
Questions? Contact us.
A word about the ScanGauge E from Ben and Darin, EcoModder's co-founders:

We've been enthusiastically recommending the ScanGauge to family, friends and in the forums since we started using the company's first version back in 2005.

Now we're happy to be offering the new ScanGauge E at a special low price!

Bottom line: if you're serious about saving fuel, get one! You won't be disappointed.
Want better gas mileage?
The ScanGauge E is the newest tool for drivers serious about saving fuel. It provides the feedback needed to (a) adjust the nut behind the wheel, or (b) test fuel-saving modifications:
instant MPG, in real time
trip average MPG (resettable on the fly)
tank average MPG
engine load, throttle position and more
Save money, have fun
Save $98 to $645 a year: a driver can reduce fuel consumption between 5-33% through smarter driving. (From EPA figures, based on 15,000 miles/year, $2.75/gal and 2009 combined fuel economy average of 21.1 MPG.) Some of our forum members are saving this much and more.
"Game gauge": one of the best ways to save fuel is to make it a game. With a ScanGauge you can turn your daily commute from a chore into an engaging challenge to beat your previous "high score" MPG.
More than just an MPG gauge
The ScanGauge E now lets your estimate your environmental impact by estimating how much carbon dioxide your car produces.
MPGuino
If your vehicle is not ScanGauge compatible, the MPGuino fuel economy gauge is another option. For more info see here, here and here.