Building Belly Pan Below Muffler
I originally had built the belly pan below the muffler using 24" wide aluminum flashing. But it was flopping around too much and I cut it away. Now it was time to restore that section, better than before.
1st pic below shows open area below muffler and by right rear wheel. This shows the vertical panel that I added after removing the original belly pan material in that area. The 6 rivets you see with washers go into brackets on the back side, made from aluminum bar stock. The vertical panel is NOT attached to the car itself, just to the edge of the sheet of horizontal coroplast.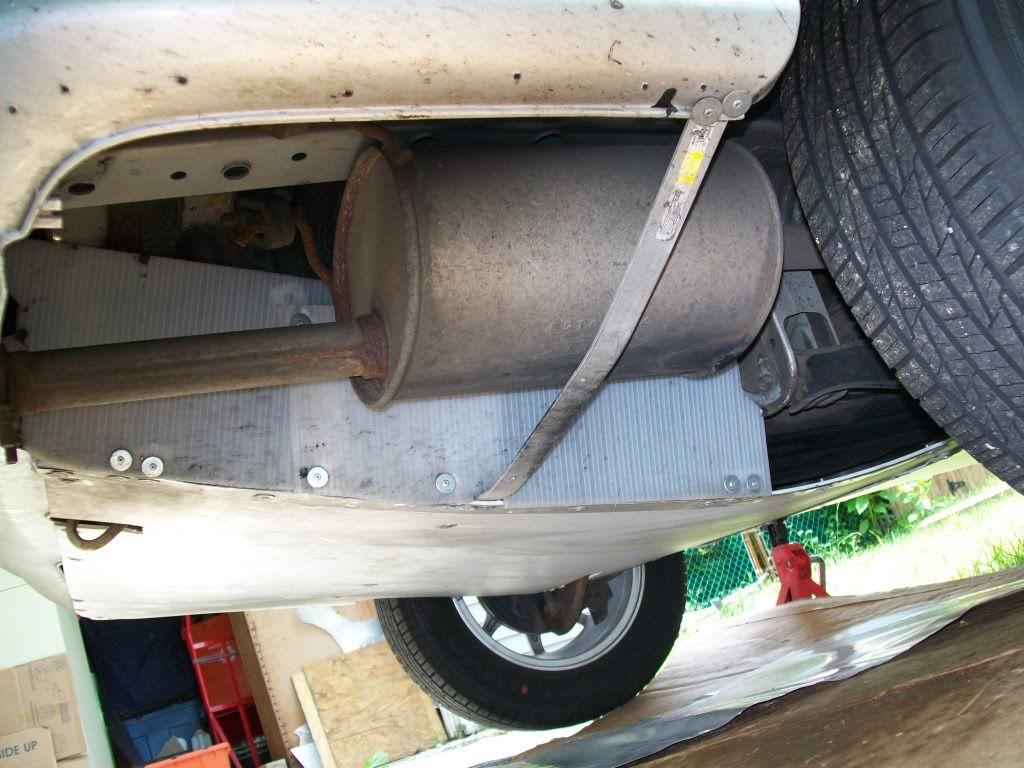 Above you can see the open area behind the wheel. The missing pan section goes to the front of the rear fender cutout. So the new pan section needed support there. This frame piece (pic below) was bent to span that area, curving below the suspension arm when at full drop, and below the muffler. Pay no attention to the straight stock in the background. The material is 1" by 1/8" aluminum. 6' was $10 at the hardware store.
I had to rework the various bends quite a few times before I got them right, before drilling for rivets. I also needed to twist the bar in two places so it would land "flat" across the existing material it would be attached to. Fortunately I'd bought a vise for only $2, so vise plus Vise Grip pliers made the twist easy.
Drilling for a rivet. I also once used the method of pressing my left middle finger down on the top piece to hold it in place. The hole in my finger from where the drill bit went through isn't quite done healing yet. I'd say any other method is preferable to the finger press technique.
Here's the new frame piece in place. Like nearly all the attachments in this project, it's riveted to other belly pan components and sheet-metal-screwed to the car itself. So it potentially could be removed without destruction for maintenance, if/when needed.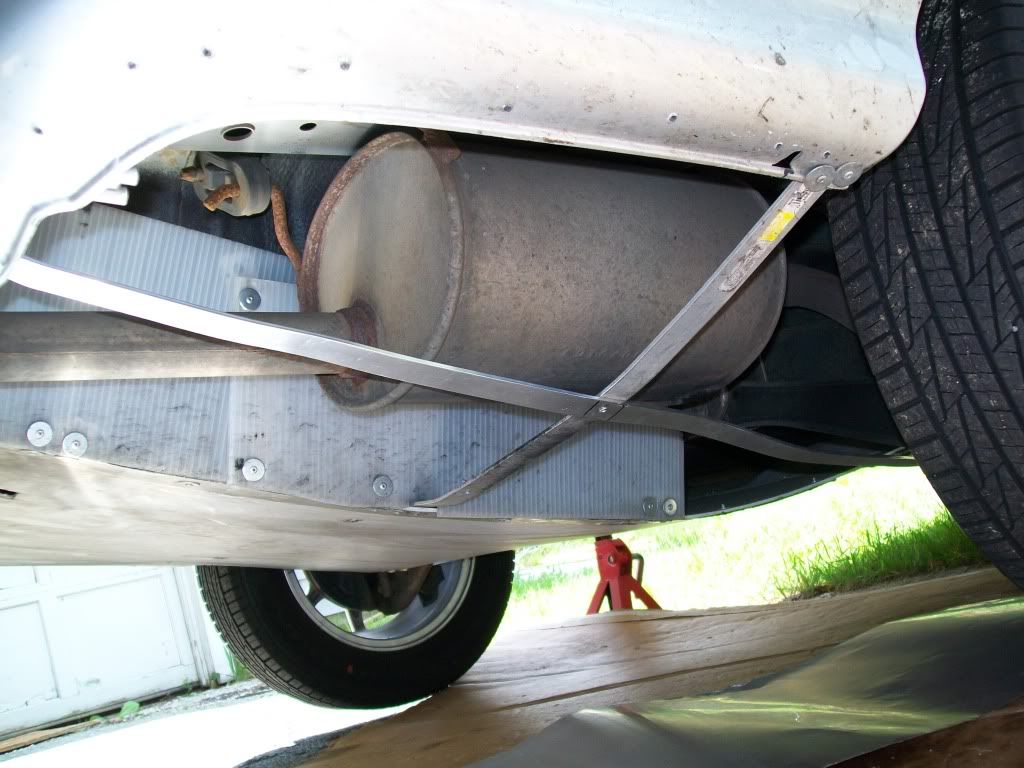 Here's a view showing the area, with the end of the belly pan's middle section visible at the top of the photo.
Sorry I don't have a pic showing the new material in place. But you should get the idea. I used aluminum flashing again this time, due to the heat of the exhaust. However coroplast might have been just fine. After an hour's drive on a hot day I put my hand on the flashing back there, it was just barely warm.