You must sign in to add / modify vehicles in the EM garage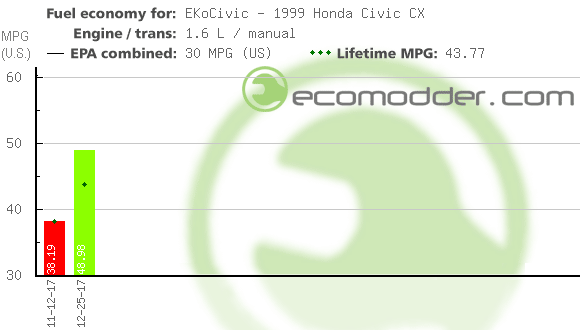 Efficiency log for: EKoCivic - 1999 Honda Civic CX
Lifetime Fuel Economy: 38.2 mpg (US), 6.2 L/100 km, 45.9 mpg (Imp)
90-day Fuel Economy: 38.2 mpg (US), 6.2 L/100 km, 45.9 mpg (Imp)
3-tank Fuel Economy: 38.2 mpg (US), 6.2 L/100 km, 45.9 mpg (Imp)
EPA Combined Rating / % over rating: 30 mpg (US) / 27.3% (based on 90-day fuel economy)
Total fills: 1
Average cost per gal/L: $2.49 per gal (US); $0.00 per L (price data entered for 1 fill/s)
Average cost per fill: $24.91
Average distance cost: $0.07 per mi. / $0.04 per km
Total fuel used: 10 gal (US), 37.9 L
Total distance traveled: 382.1 mi. / 614.9 km
Total cost: $24.91
Total fuel saved vs. EPA: 2.7 gal. (US) / 10.2 L
Total saved: $6.72 (based on avg. cost per gal./L)
Average tank distance: 382.1 mi. / 614.9 km
Fill date
Distance
Fill amount
Price
Fuel Economy
Details
2017-11-12
382.1 mi
614.93 km
10.004 gal (US)
8.33 gal (Imp)
37.87 L
337.13 kWh
$2.49
($24.91 total for this fill)
38.19 mpg (US)
45.87 mpg (Imp)
6.16 L/100 km
2.62 gal (US)/100 mi
882.31 Wh/mi
Just starting out with my EcoModder Build. This was a Completely stock run. Outside Temperature when driving has ranged from 32F-55F. This car does not have cruise control does my driving technique has been staying at 20-21 on my TPS readout on the ScanGauge II. Idle is at 9 on TPS.
View: spreadsheet friendly fuel log output (for copy/paste)