You must sign in to add / modify vehicles in the EM garage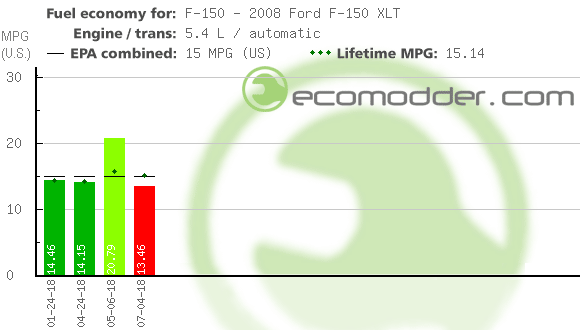 Efficiency log for: F-150 - 2008 Ford F-150 XLT
Lifetime Fuel Economy: 14.5 mpg (US), 16.3 L/100 km, 17.4 mpg (Imp)
90-day Fuel Economy: 14.5 mpg (US), 16.3 L/100 km, 17.4 mpg (Imp)
3-tank Fuel Economy: 14.5 mpg (US), 16.3 L/100 km, 17.4 mpg (Imp)
EPA Combined Rating / % over rating: 15 mpg (US) / -3.6% (based on 90-day fuel economy)
Total fills: 1
Average cost per gal/L: $4.81 per gal (US); $1.27 per L (price data entered for 1 fill/s)
Average cost per fill: $80.51
Average distance cost: $0.33 per mi. / $0.21 per km
Total fuel used: 16.76 gal (US), 63.4 L
Total distance traveled: 242.3 mi. / 390 km
Total cost: $80.51
Total fuel saved vs. EPA: -0.6 gal. (US) / -2.3 L
Total saved: $-2.89 (based on avg. cost per gal./L)
Average tank distance: 242.3 mi. / 390 km
Fill date
Distance
Fill amount
Price
Fuel Economy
Details
2018-01-24
390 km
242.33 mi
63.441 L
16.76 gal (US)
13.96 gal (Imp)
564.81 kWh
$1.269
($80.51 total for this fill)
16.27 L/100 km
14.46 mpg (US)
17.36 mpg (Imp)
6.92 gal (US)/100 mi
2330.75 Wh/mi
Second fill up. Lost the distance traveled due to repairs on the console. Needed to be unplugged to replace light bulb.
Had approx 390km on the tank when filled.
View: spreadsheet friendly fuel log output (for copy/paste)