You must sign in to add / modify vehicles in the EM garage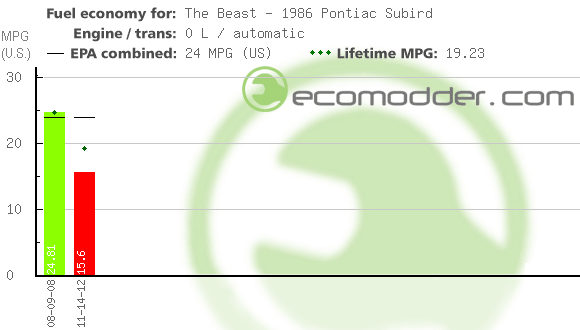 Efficiency log for: The Beast - 1986 Pontiac Subird
Lifetime Fuel Economy: 19.2 mpg (US), 12.2 L/100 km, 23.1 mpg (Imp)
90-day Fuel Economy: 15.6 mpg (US), 15.1 L/100 km, 18.7 mpg (Imp)
3-tank Fuel Economy: 19.2 mpg (US), 12.2 L/100 km, 23.1 mpg (Imp)
EPA Combined Rating / % over rating: 24 mpg (US) / -35% (based on 90-day fuel economy)
Total fills: 1
Average cost per gal/L: $5.41 per gal (US); $0.00 per L (price data entered for 1 fill/s)
Average cost per fill: $25.86
Average distance cost: $0.22 per mi. / $0.14 per km
Total fuel used: 4.78 gal (US), 18.1 L
Total distance traveled: 118.6 mi. / 190.9 km
Total cost: $25.86
Total fuel saved vs. EPA: 0.2 gal. (US) / 0.8 L
Total saved: $1.08 (based on avg. cost per gal./L)
Average tank distance: 118.6 mi. / 190.9 km
Fill date
Distance
Fill amount
Price
Fuel Economy
Details
2008-08-09
118.6 mi
190.87 km
4.78 gal (US)
3.98 gal (Imp)
18.09 L
161.09 kWh
$5.409
($25.86 total for this fill)
24.81 mpg (US)
29.8 mpg (Imp)
9.48 L/100 km
4.03 gal (US)/100 mi
1358.26 Wh/mi
Mileage waay up. Found a short in the ignition system and fixed it and has made an amazing difference in both mileage and performance. This is my mom's car, and before I moved in she didn't really do maintenance on it or anything at all. This fill was nearly 30 Canadian mpg and when I first moved here it was getting around 18. Biiig difference.
View: spreadsheet friendly fuel log output (for copy/paste)