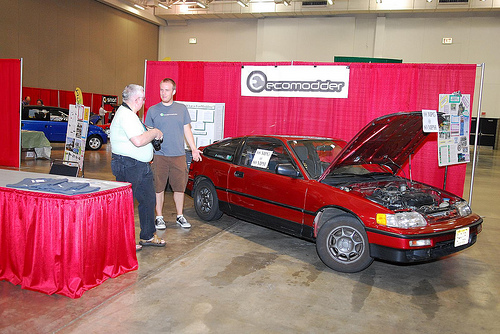 Sorry for being a little scarce recently, but it's because I've been on the road with some of the other members of the EcoModder forums visiting HybridFest out in Madison, Wisconsin. Some of us were local, so the trip wasn't such a big deal, but others of us (me!) had an 18-hour, all-night drive out from New Jersey. So, I hope you understand that updates have been a little scarce, to say the least.
EcoModder was a "Silver Sponsor" of HybridFest, which besides meaning we helped with the whole thing coming together, means we got to have a big booth where we showed my car, Ben Nelson's electric motorcycle, and talked to everyone interested about EcoModding. I also gave a few talks about EcoModding, which I think helped connect us with some cool folks. In the image above, you can see me standing with my car before the event had even officially started. You can see more pictures on flickr.
Anyway, HybridFest was a great time, and I'd like to share with you a few of the highlights as I see them. I may take some more time to get into these things in longer posts, but if you were considering coming out, here are some of the great things you missed:
The EcoModder booth: As I already mentioned, we had Ben's DIY electric motorcycle and my 91 CRX attracting attention. I got so many questions about the "68 mpg @ 60 mph" sign that I didn't have time to check out any of the speakers or any of the other booths!
Toyota: Toyota was the biggest sponsor and brought a whole team of people to show several hybrid models as well as walk people through a gigantic pop our trailer bus. The sweeten the deal, they gave out non-battery LED flashlights (which you had to shake to charge up) and packets of seeds.
GM: You'll hear more about this in a post I will write tonight, but GM came to the opening dinner Friday night and then disappeared, abandoning a city bus, their floor space, and their sponsorship of the event.
MPG Challenge: Evidently everyone expected the winner to win, but you can check out the results here. It was an open course, time-limited event, so definitely practical to real life driving…and with some amazing results.
Prii: And I thought Hanover had some massive collection of the iconic hybrids…Everywhere you turned would be a different Prius with a different custom paint job and some sort of claim to fame.
I wish I could comment more on the other booths and the speakers, which I heard were great, but I spent all my time manning our booth and not too much time wandering around. However, it was definitely a great experience, and I urge you all to come out next year.
If you liked this post, sign up for out RSS Feed for automatic updates.
Popularity: 3% [?]