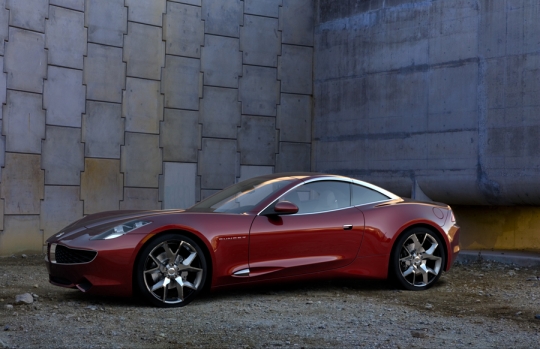 For more photos of the Fisker Karma, check out our gallery at the bottom of this post.
Before I saw the Fisker Karma in person at the 2009 New York International Auto Show, I didn't think much of the car. To me, it was just another high-priced, luxury eco-mobile competing with Tesla Motors for the top spot as most expensive gasoline alternatives.
However, I've come to realize that Fisker is a lot more than another car company. Unlike Tesla Motors, the company is headed by an actual car guy, Henrik Fisker. As a former designer from Aston Martin, you can see Fisker's style at work in the design of his cars. Unlike his counterpart at Tesla, Elon Musk, his efforts are put into designing beautiful cars and not calling critical reporters bad names.
Yes, Fisker is also designing expensive cars. Yes, they are series hybrids and not fully electric. Yes, they are relatively impractical vehicles for the average person to own. And yes, they're not even on sale yet.
However, Fisker has a longer lead time with their cars, because unlike the Tesla Roadster, the Fisker Karma is all Fisker Automotive's design from the ground up. Their efforts are also complicated by the series hybrid design, which takes more effort to design than a straight up electric vehicle.
So, why am I so excited about this car? Well, it will be shipping to consumers in about a year for around $80,000, and should provide about 100 mpg when it passes the 50 mile electric-only range and the gasoline engine kicks in to charge the batteries.
For all intents and purposes, you can think of the Karma as the luxury version of the GM Volt that will be on the market sooner and in much lower quantity. Unlike Tesla Motors, Fisker Automotive will attempt to be a brand of green supercars, not the everyman's luxury sedan.
If a green car lover could ever be excited about a supercar, they will likely be excited about something from Fisker Automotive. Anyway, to end a meandering post on a somewhat coherent note, I think that Fisker is now the company to watch. Free of pesky lawsuits, I expect the company to begin producing the kind of unattainable auto that everyone loves to love.
[imagebrowser=4]
Popularity: 4% [?]