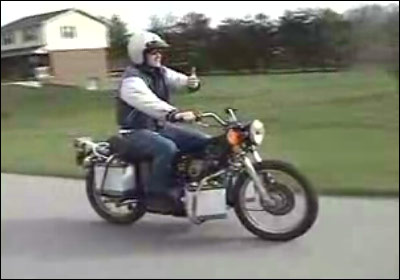 What would you do if the company you work for says you can have – for free – a worn out battery powered forklift that's collecting dust in the corner of a warehouse? If you're Russ Gries you'd say, "dirt cheap, home-built electric motorcycle, here I come!"
Well, that's exactly what happened to Gries, so he immediately put the word out that he was looking for a dead motorcycle to host the forklift guts. Before long, a tip from a friend led him to a classic, deceased 1976 Honda CB550, which he picked up for the princely sum of $50.
And then he got down to work.
So far Gries, who works as a controls technician in Evansville, Indiana and who "loves to tinker", has put about 120 hours into the project he's nicknamed "Voltzilla".
Just a week ago he had the machine out for its first test run (see the video, below). He got it up to 35 mph, and with a planned drive pulley swap, he's aiming for a 60-65 mph top speed.
Motorcycling isn't new to Gries: "I had a Kawasaki KZ650 that I just could not keep running and it was frustrating. The gas motorcycle was just not my kind of fun."
His latest bike couldn't be more different from the clunky Kawi that inspired the gas-free Voltzilla project. And you just have to talk to him to tell he's definitely having fun with the electric conversion.
He's laughing all the way to the bank, too. Not counting his time, his net cost so far is $15.61. (No, that's not a typo.) That represents about $350 spent on parts, minus an almost equal refund from the scrap dealer for recycling the forklift chassis. (Obviously it helps when the forklift itself was gratis.)
Unique from other motorcycles conversions…
Aside from the bargain basement build cost, "Voltzilla" has other unique specifications that set it apart from typical motorcycle conversions:
it's running at 24 volts – the voltage of the forklift components (most other conversions are higher voltage, more commonly 48v and up)
the transmission was retained, because Gries wanted the flexibility of variable gearing for the hills where he lives (most other converted bikes are direct drive from the motor to the rear sprocket)
the forklift had reverse… so the motorbike has it too!
battery selection: four used 6 volt 220 amp hour golf cart batteries (most other conversions use much more compact, lower capacity types)
With its heavy forklift components and honking big batteries, the bike tips the scales at a portly 740 lbs, minus the rider. But Gries insists handling is not a problem: "it's balanced like a scooter. It has a low center of gravity. I love it!"
And while the front batteries may appear at first glance to be a potential problem in cornering, they're mounted within the stock highway bars, so the bike's maximum lean angle is no worse than it was in gas-burning configuration.
It's almost, but not quite finished …
Gries' ultimate goal for Voltzilla is to get himself back and forth to work, 12 miles each way. In addition to the drive cog swap that will get the higher speeds he's after, there's still a bit of work to do before it's ready (and legal):
DC/DC converter, to run the bike's 12v system (lights, horn, etc.) from the 24v pack
make up covers/panels for the electronics
disassemble, clean & paint & reassemble (it's got to look nice, after all, since it's getting so much attention!)
While it's unlikely the $15 net cost is going to hold, it's still an impressive project – and a resourceful demonstration of reduce, reuse & "re-cycle".
When Voltzila is officially on the road, a follow-up with Russ is definitely in order.
Video: First test ride…
Photo slideshow of the build progress…
Trend spotting …
I'm not sure if VoltZilla is evidence of a budding trend, but it's just the latest example of using a worn out forklift to build a cheap road going EV. EG. there's this $672 electric car, and also this 1996 Metro conversion in progress. I have a feeling we'll see more reincarnated forklifts in the future.
For more info about the ForkenCycle / VoltZilla …
– Reach Russ Gries via the comments below his video on YouTube.
– Get more information about the project in the EM forum thread: ForkenCycle! (Dirt cheap forklift based motorbike conversion)
– For more electric action, check out the EcoModder.com Forums!
– If you liked this post, sign up for out RSS Feed for automatic updates.
Popularity: 13% [?]