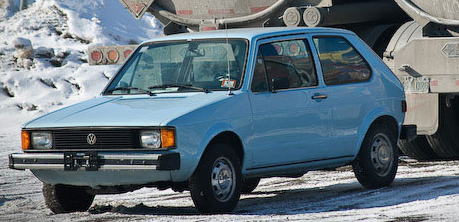 We've been doing it for years here on EcoModder, but now some of the big dogs want to join in the game. TopGear USA has decided to take up the challenge of ecomodding a 1981 Rabbit Diesel, with the goal of being able to put down 70 mpg, 0-60 in 7 seconds, and they intend to do it all with a less than $7,000 budget.
The car isn't built yet, but the early plans, which you can find out more about on their website, involve swapping in and tuning a modern TDI engine as well as some aeromods. When you consider that they will be attempting to nearly double the EPA ratings of a modern TDI, this certainly seems like a large task, but there are a few ways I think they can get the job done:
Fudge the testing: I'm not saying I don't trust TopGear, but they could just put the car on the highway at 55 miles an hour behind a truck and easily get 70 MPG without doing anything. This might also be the only way to get that thekind of mileage on a car that does 0-60 in 7 seconds as well (it certainly won't be getting 70 mpg in town).
Aeromod the heck out of it: The VW Rabbit was designed a bit like a brick, and some extensive aeromods could clean up that boxy shape quite a bit. If they went as far as the AeroCivic, they're looking at accomplishing much of their goals already.
Aggressive ecodriving: I'm sure this isn't what TopGear is thinking, but some skillful ecodriving could get their Rabbit TDI to their desired goal.
Secrets?: Well, if TopGear pulls it off I think it will most likely be something out of the secret bag. I'm interested to see what they come up with, and I'm sure it will probably involve a few tricks out of the standard tuner's toolkit, but until then who knows.
So, good luck to TopGear. We'll be posting more when there's more to know about the project. Until then, check out their teaser clip, embedded below.
Popularity: 7% [?]