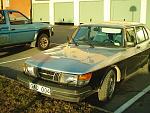 SAAB 900 -81 8v turbo 3sp auto.
My old car from way back.

147hp and 235Nm of fury! Unfortunately the turbo lag was aggravated by the fact that it was a 3 spd auto(you often got low revs even in kick down) and that the turbo bearings were already in poor shape when i got her.
4
10-04-2011

05:53 AM