Forget the Model S - Tesla announced the even more stunning model D
---
The Model D Is Tesla's Most Powerful Car Ever, Plus Autopilot | WIRED
Quote:
Tesla's next car, the P85D, will have two motors and all-wheel drive. It will match the 3.2 second 0 to 60 mph time of the McLaren F1, one of the fastest cars ever made. And it will be even more efficient than the current, already terrific, Model S.
D stands for Dual drive, apparently.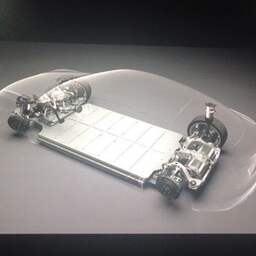 Specs? 700 hp. Range? 225 miles for the 60D and 275 for the 85D.
Looks? Same as the model S.
Quote:
In a move that most of the luxury auto market has already made, the car will offer active safety features like adaptive cruise control and the ability to read speed limit signs, stop itself if a crash is imminent, stay in its lane, and even park itself in a street spot or in your garage.
Or maybe D is for Daimler, where those goodies came from?
The best news of all:
Quote:
So now that it's reestablished its position as the true innovator in the auto industry, maybe Tesla can go back to work on building a wonderful electric car more of us can take home.
I hardly can wait for the moment I take delivery of a $35k Tesla model 3 and dream of big sedans that do 0-100 km/h in 3.2 seconds
At least now they have a FWD electric drivetrain ready to bolt into a cheap econobox...
__________________
2011 Honda Insight + HID, LEDs, tiny PV panel, extra brake pad return springs, neutral wheel alignment, 44/42 PSI (air), PHEV light (inop), tightened wheel nut.


lifetime FE over 0.17 Gmeter or 0.1 Mmile.
Investors woes:
"In hindsight, I should have placed a bet on the horse that won the race"
"In hindsight, I should have bet more on that horse"
---
Last edited by RedDevil; 10-10-2014 at

09:53 AM

..