Is hypermiling about just MPG or could it also be about travelling for less?
On this trip, I slept comfortably in my car, ate cold food from the cooler and never spent more each day (other than the cost of gasoline) than the cost of a hot cup of coffe and ice for the cooler.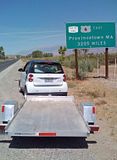 I woke up this morning in a cornfield east of Denver. I slept pretty well in the Smart Car; went to sleep at 10:30 and woke at dawn.
I make a bed over the folded-down passenger seat with my feet behind the driver's seat. It was cold last night so I didn't stretch out by popping open the tailgate.
I fueled up in Bishop and left for Chicago, pulling a Featherlite trailer that is just the right length but a little narrow to hold a Smart Car. I plan to pick up a 4-passenger Wildfire enclosed trike in Chicago and tow it back to California.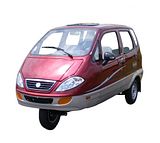 Driving across the Great Basin, I achieved 59.3 mpg. From Delphi, Utah, the mpg dropped to 51.7 because I got on Interstate 70 with all the yahoos going 75 mph and climbed over Lovelock Pass at 10,300 feet or so.
I'm sending this wireless from a cute little town in northeast Colorado.
East of the Rockies and burned out by the interstate, I often head out on the less-traveled secondary roads with their rural charm and tempered urgency. When I do this, I hate referring to the map each time I get lost. I want to drive, not read. So for this trip, I fitted a Hamilton vertical card compass to the console. I can't tell you how great an instrument this is. North and East = Chicago. Also, when you pull off the road for gas or a rest, the compass tells you which way to head out. I love it because just one little mistake can ruin your hypermiling gains in new territory.
1377 miles and counting - Ptero