Quote:
Originally Posted by
Piwoslaw
BTW: I started reading through your
TDI Club thread
and you mentioned a 5th gear swap. If you are going all out on this project, then maybe swap for a 6 speed gearbox, as
dremd did
. He appears to be quite pleased with it.
Why would I spend more money (5th gear brand new retails only for around $350
Advanced Automotion
, I paid less directly from Germany) on a different transmission that has lower gearing ratios than what I will have!?
My 5th gear combo is from a TDI T4 VW and has a ratio of 0.622 and my R&P is 60/19 (=3.15) so I will have the final gear ratio of 1.95 compare this to the 6 speed transmission you mention: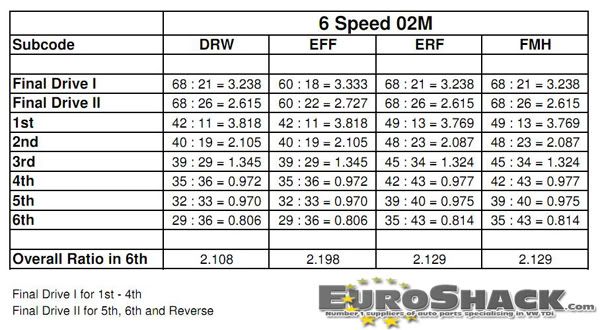 6th speed doesn't always give you a taller gearing but only more gears to chose from, in fact my factory CTN transmission from the 1998 TDI has a factory 5th gear of 34/45 (=0.7555) which is even in itself better than the 6th gear in that transmission (though not in reality with my R&P (3.15 * 0.7555 = 2.37) hence why I am swapping the 5th gear while retaining 100% original 1-4th gear ratios for my engine/transmission). The reason for this can be found in the original article I linked to at TDIclub here:
Project Sipster part 3: Optimism Meets Realism > MotoIQ > Magazine Articles
where it is revealed that the older (1998) transmissions have a taller gearing than the newer ones.
Now I will need to get my torque of my engine close to doubled, which will be achieved with the following:
VE TDI | Malone Tuning Ltd.
I was considering going with what they call in the TDI realms for hybrid turbo but I didn't I stuck to a factory one, so I will be doing the custom chip there which will give me around 100ft lbs of TQ more and will be most likely adding an SDI intake (here's one thread on that
http://forums.tdiclub.com/showthread.php?t=196931
there's plenty more) which it appears will help LOW end TQ =(torque) since I am looking at doing 100km (65MPH) at around 1700-1800RPMS, still not final due to not having decided on 165/65-14 or 175/65-14 tires
Anyway all this (non alt topic) belongs in my initial thread:
http://ecomodder.com/forum/showthrea...2-12384-8.html