YEAR: 1984, the first year of the CRX in North America
MAKE: Honda
MODEL: Crx dx1300
MILES: 19x,xxx chassis, unknown on motor but suspect around 120k
DESCRIPTION: See below
PRICE: $3500
PIC: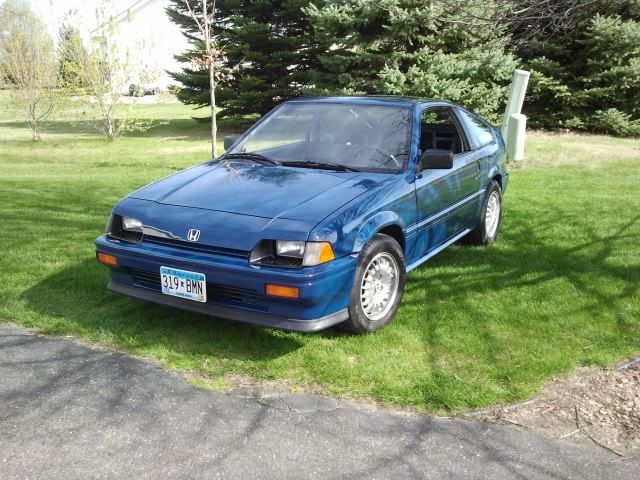 Album of all my pics:
Image hosting, free photo sharing & video sharing at Photobucket
Build thread:
84 crx dx1300 - MNHondas
It saddens me to post this for sale. I've poured my heart and soul into restoring and updating this vehicle. With that being said I'll move on to the description.
What I started with was the very lightest crx chassis ever produced. Curb weight is listed as 1720 lbs. The dx1300 or later named HF chassis had quicker steering ratios, solid front disc brakes (bleah) and a lightweight rear beam axle. The stock carbureted motor and tall geared transmission were removed in favor of a lower mileage efi motor from my other crx, a 1986si. The entire interior was stripped from the 84 to perform a full chassis harness and fuel line swap. The 1986 interior was reinstalled into the 84 chassis along with new aftermarket carpet although the firewall and floor sound deadening was not. The factory battery was removed and a lightweight agm battery was installed in the passenger foot well saving around 25lbs. The front knuckles were also swapped in which have vented discs and Tockico blues. An Addco front sway bar and home brew rear sway bar have also been installed. Exhaust is 2.5" crush bent system with a chambered muffler. The stereo and ash tray slots have been deleted although there is a very stealth system in the car, a 4 channel vintage hifonics amp, two way door speakers and a 10" pioneer subwoofer are used in conjuction with any mobile device utilizing a 3.5mm input plug. A vacuum/boost gauge is installed in the factory coin tray which can be hidden away.
All the brakes are brand new
All the tires are nearly new (Michelins)
All the wheels (BMW bottle caps with Honda center caps)have been reconditioned
Timing belt, water pump, radiator, plugs, wires, and rotor are new
Valve cover gasket is new and cover has been restored.
Apexi Safc is installed for data only. Negotiable with vehicle, but priced to go with the car.
I have a great deal of parts that go with the vehicle. It all must go.
The current ecu is from an 86 Acura Integra along with the installed injectors. A stock ECU and set of injectors would be included with the extensive spare parts store. With the current ecu and injectors mileage is a fairly lousy 28-32mpg in mixed spirited driving.
The exterior has been fully reconditioned with new reproduction abs fenders. The side skirts pictured are not available on 1984 models, they came standard on 86-87 crx si cars and are in good condition. I did all the blocking on the car and had the Little Canada Maaco spray the car in the original baltic blue, but did not have the car two toned with silver as it came from the factory.
There are a few things that need to be addressed that I will help with. I've already contacted my insurance to have the front glass replaced, but has not been done yet.
The car is beginning to use some coolant. I believe the issue is a weak head gasket. I have the felpro gasket and can do the job prior to purchase, but the price will have to go up $100. The driver's seat bolster has some missing vinyl. I have an upholsterer lined up that will replace the panels for $85. The exhaust will on occasion hit the rear sway bar, especially with a passenger.
I'm going to end the description here but needless to say the car is in very good condition. The car was originally from Arizona, hence the lack of rust.
Test drives are encouraged. Low balling will be ignored.
Chris
612-203-8713 cell/text