Hey Rick - does business ever take you to Maui? This would be worth a review...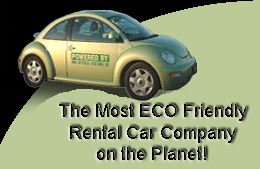 Quote:
Biodiesel (Biofuel) Rental cars in Maui Hawaii (Kahului airport,(OGG)

Exotic rental cars that are fun, affordable & Earth Friendly!Hybrid electric rental cars use fossil fuel, our rental Cars use 100% Biodiesel! Great fuel economy! Better for you, Better for the planet!

Biodiesel is a clean-burning diesel fuel, made from 100% natural, 100% renewable sources such as vegetable oil recycled from restaurants!

BIO-BEETLE MISSION STATEMENT: Our mission is to be the "GREENEST", and "BEST", rental car company on the planet.
http://www.bio-beetle.com/
(These people should be paying for this exposure!
)