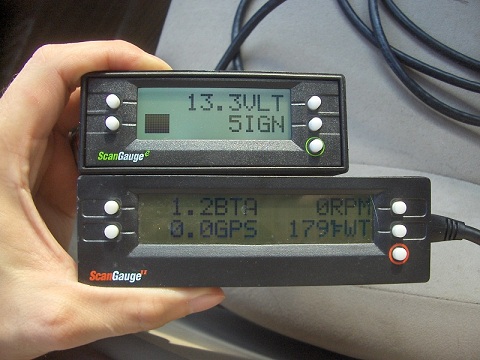 ScanGauge-e shown, top, and ScanGauge-II.
Read Tim's comparison
.
A deserving forum member (redpoint5) had his name drawn for the SG-e in our last contest, but he has graciously thrown it back to us to be drawn again.
So we're having one last draw!
As before, to qualify to win, you just have to participate in the forum as usual. We'll draw 1 member at random who posts in any thread in the forum between 12:01 AM EST today (March 18) and noon EST on Monday, April 8.
Up for grabs:
* NOTE: Only members who joined before today can win.

The winning username will be announced in this thread. Winners must claim their prize within 10 days of the announcement (by contacting us via private message), or we reserve the right to draw another name in your place. We're not kidding - we've had to do this before.
Excellent odds!
Forum participation generally tracks gasoline prices in the U.S., which means with current prices your odds of winning are near 11-year highs!
Good luck!