From
Forbes online
via
ABG
...
This is marginally related to efficiency, since most cheap cars are also small and light, with small, relatively efficient engines.
And there seems to be some correlation between ecomodding and not blowing a giant wad of cash on a car. One of the reasons may be that it's psychologically easier to start modding something that hasn't broken the bank to begin with.
Apparently the automakers agree, because the #10 car on this list is the Logan, which Renault
modded into an efficiency monster.
Of course, the #1 car on the list is the Tata Nano, sporting what appears to be a glassy paint job that looks like it's worth a significant portion of the list price
.
Quote:
"They are cars, but they are a step up from a motorcycle," says George Magliano, director of automotive-industry research for North America at Global Insights, a market research firm. For many, though, "It is the difference between walking and driving a car."
The cars: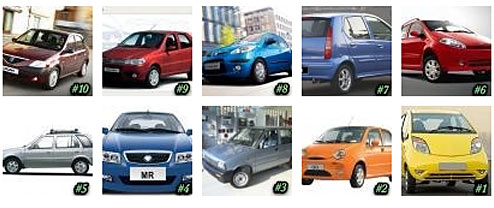 For a slide show and more details of each car, see the
Forbes article
or the
ABG posts
.
Tata Nano
4-Door Hatchback
Distributed In India
98,094 Rupees; $2,497
Chery QQ
4-Door
Distributed In China
34,499 yuan; $4,781
Suzuki Maruti 800
5-Door Hatchback
Distributed In India
195,000 Rupees; $4,994
Geely MR
Hatchback
Distributed In China39,902 Yuan; $5,500
Geely HQ SRV
Hatchback
Distributed In China
41,933 Yuan; $5,780
Chery A1

Sedan
Distributed In China
53,673 Yuan; $7,394
Tata Indica

Sedan
Distributed In India
349,423 Rupees; $8,894
Hyundai I10

Sedan
Distributed In India
355,438 Rupees; $9,096
Fiat Palio

Sedan
Distributed In India
362,994 Rupees; $9,242
Renault Logan
Sedan
Distributed In India
6,400 Euro; $9,477