Smooth wheel covers
From EcoModder Forum Wiki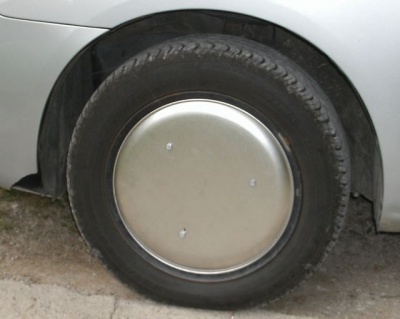 Introduction
Moon caps or moon eyes, as they are often known, cut down on aero drag, and can even look pretty cool. The amount of drag reduction varies between different vehicle and wheel styles.
They can be made DIY style with things like pizza pans, or bought at various online retailers.
Some modders will also use clear tape over OEM hubcaps or wheels, though this is obviously less permanent.
Instructions for mod
See how to links in table below.
Materials to use for mod
- Pizza trays
- Metal sheet
- Coroplast
- Serving Tray
- Fiber glassing over hub caps
Different ways to attach to car:
Screw into rims, Drill and tap 3 holes equally spaced onto the rims, Screw disks onto rims using taped holes.
Use current hub caps (screw, glue)
Buy pop on moon disks
Buy screw in moon disks
Use lug nuts (drill into them and epoxy in nuts on the ends)
Buy OEM wheel covers and pop them into place
Disks can be painted before screwing onto wheel. A pattern can be painted / stencilled onto the disk which may help hide the mod
Note: Ensure that the disk is easily removable or a hole cut to allow access to the tyre valve for tyre pumping
Note: Aero OEM whell covers will allow acces to the valve stem
User experiences
Please enter your user name and any relevant data in the table

Problems / Consequences of mod
Any way you attach wheel covers, they might come off, if so you are liable for what they hit. On the other hand it seems perfectly acceptable, even expected for OEM or OE style wheel covers to fall off.
If you bolt them onto the rim you are removing some material from the rim and might weaken it.
You might unbalance you wheels with the cover causing tread wear, rough ride and suspension issues.
The covers may reduce access to the tyre valve used for pumping up the tyre
These may block air from flowing by the brakes, keeping them hotter.
With OEM wheel covers all these problems are addressed, they are attached very well and need no modification, they are balanced, they allow access to the valve stem and they have small gaps or slits to allow minimum air flow for brakes and hub cooling (the gaps can be covered with clear tape for long highway trips).
References
Forum thread links
Simple Honda VX Alloy Wheel Covers (drilled acorn wheel nuts as attachment points) - by NachtRitter
Smooth wheel discs tested A-B-A - 4.6% mpg improvement @ 65 mph - by Concrete
5th generation civic hatchback - improving aerodynamics
Serving Tray Racing Disk ... - by cfg83
Disc Covers on a Toyota Echo (Test Results)
Echo-Francis Wheel Covers (Pizza Pans)
cheap and fast to install pop-in OEM aero wheel covers for 15 inch steelies - by oil pan 4
Coroplast smooth wheel covers, MUST READ
Easy smooth wheel covers using alloy wheel center cap as mounting point
External links